GF-6 Performance, When Finishing First Matters
---
For Afton Chemical, superior engine performance is not simply achieved by complying with the latest industry specifications, it is achieved by exceeding them. The much-anticipated introduction of the new GF-6 specification in May 2020 represents a key performance upgrade for automakers. Driven by increasingly stringent efficiency and emissions legislation, they have had to implement significant change in terms of engine design, operation and control. These designs place additional stresses on lubricant, and the GF-6 specification is designed to address these, particularly with new tests to evaluate pre-ignition and timing chain wear performance.
HiTEC® 11163 – When Performance Matters Most, Afton is There
As with all new ILSAC categories, products must also meet the requirements of existing vehicles, so it is reasonable to expect that GF-6 oils will show improved performance in other general performance areas versus current market GF-5— increasing engine protection in terms of wear, deposit control, oxidation and corrosion. This is the design philosophy behind the latest addition to the Afton engine oil product line, HiTEC® 11163 Passenger Car Engine Oil Additive package, a first intent GF-6 platform designed not only to meet the current targets for new engine designs, but to be robust enough to provide reliable pre-ignition and wear protection as automakers push the operational boundaries of new engine technology in the future.

Particularly in the area of pre-ignition, the Afton objective in addressing this need is a detailed understanding of the mechanism for, and control of, pre-ignition such that Afton technology can provide optimum—zero event—capability however tested. HiTEC® 11163 meets the ILSAC performance needs of OEMs in all viscosity grades through a single technology package, with no compromise in engine protection for SAE 0W-16 for the GF-6B specification at lower high temperature high shear (HTHS) viscosity.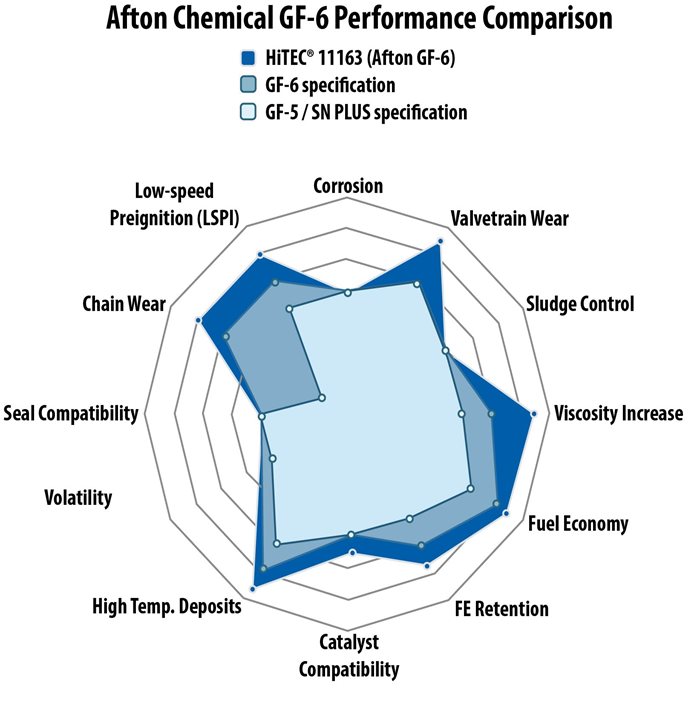 Afton Chemical's advanced GF-6 chemistry not only delivers performance, but also versatility and flexibility
HiTEC® 11163 offers extensive Group II and Group III base oil coverage, as well as viscosity modifier flexibility, including 25, 35 and 50 SSI OCPs - covering the full breadth of viscosity grades in a single package, enabling performance in both old and new vehicle designs.

Our unique additive package also provides enhanced wear, oxidation and cleanliness performance compared to previous GF-5 platforms, and beyond the minimum performance demands of the GF-6 specification. This design approach means that HiTEC® 11163 is extremely versatile, with performance demonstrated in both a wide range of viscosity grades, such as SAE 0W-16, and base oils, such as Group I, Group II, Group III and rerefined base oil types.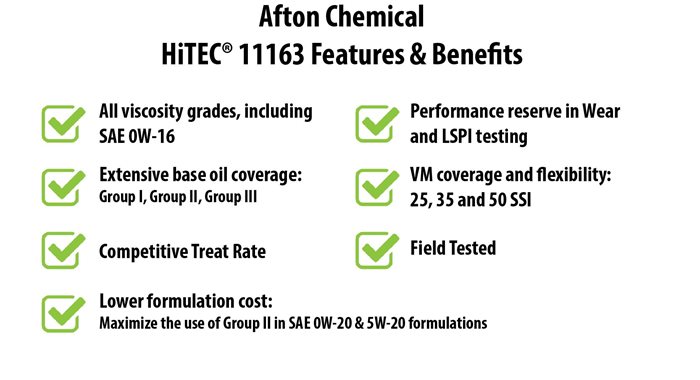 The Afton Difference
See how our innovative chemistry delivers both performance and versatility, contact your Afton representative today.