Grease
Afton grease additives can help improve performance and simplify formulations in industrial, automotive and commercial applications.



Afton Chemical's lubricating grease additives are developed for industrial, automotive and commercial applications. Multifunctional core additive packages are designed to reduce complexity while also maintaining the formulation flexibility of your grease. They provide a building block approach that combines several performance attributes into a single product. Individual additives are aimed at specific performance characteristics.
Learn about the new National Lubricating Grease Institute (NLGI) High-Performance Grease Specification, here.
Our high-quality additive chemistry will meet your specific needs for thickener compatibility, environmental responsibility and cost effectiveness. And we can help you meet the latest performance requirements for extreme pressure, wear protection, corrosion inhibition, extended grease life, energy efficiency and the other challenges you face.

Afton's grease pilot plant allows us to understand the manufacturing variables that impact additive functionality. It can also help us optimize performance parameters in order to reduce cost and improve additive effectiveness.

Looking to the future, we're modeling additional core performance packages to reduce cost, complexity and quality concerns.

We're also evaluating novel friction modifiers to meet demands for cost-effective energy efficiency and investigating the fundamentals of fretting wear. You can also look forward to rust inhibitor systems that allow corrosion protection under more severe conditions without taking away from extreme-pressure and other surface-active performance.

Unboxing the Industrial Microbotz Guides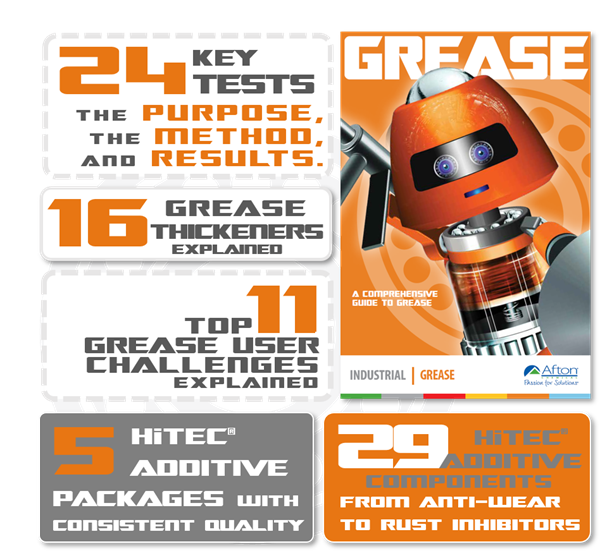 Receive a set of the current Guides
To receive a full set of the current Guides, as well as updates, please click here.

Why Afton?
We offer a broad grease portfolio with multifunctional core packages and performance-enhancing additive components that simplify formulations.
Our dedicated resources provide technical solutions for your specific grease formulation challenges. Afton gives you REACH-friendly, globally registered componentry backed by a worldwide distribution network.
Our proven products are backed by millions of hours in the field.
Afton's world-class R&D is developing novel componentry to meet the growing demands of high-temperature grease applications.