Wind Turbine
Afton Industrial has been providing wind turbine oil solutions for many years. Our technology reliably runs in thousands of wind turbines around the world, supporting the growing renewable energy market.

Wind turbines have grown in power output while also requiring accessibility-driven extended drain intervals. This has resulted in more challenging turbine performance demands on both oils and oil additives.
Increased power output means increased load on the gearbox and bearings. Afton's high-performance wind turbine technology is designed to protect against micropitting and white etching, even at low temperature start-ups. Our protective chemistries have little or no impact on other materials in the gearbox, such as coatings and elastomers, as well as ensuring rapid separation of air, moisture and other contaminants.
Afton stays at the forefront of wind turbine technology through collaborative projects with a range of institutes and OEMs such as Argonne National Laboratory, Imperial College London, and Cambridge and Southampton universities. We also participate in industry bodies such as FVA, National Renewable Energy Laboratory (NREL) and American Wind Energy Association (AWEA).
From off-the-shelf products to bespoke creations, our depth of wind turbine experience and proven technology ensures we can provide flexible solutions for your needs.

Unboxing the Industrial Microbotz Guides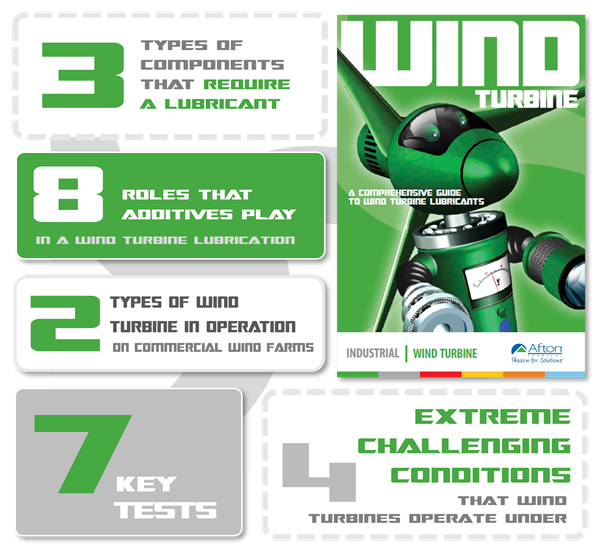 Receive a Set of the Current Guides
To receive a full set of the current Guides, as well as updates, please click here.

Why Afton?
Afton's products come with proven turbine performance in both test stands, such as the FVA micropitting testing, and extensive long-term field trials.
With a strong fundamental understanding of white etching and compatibility, Afton experts are focused on bringing solutions to our wind turbine customers.
Our OEM representatives in every region are focused on evolving trends in gear box design and changing component materials, and offer valuable insight to our customers.
We have world-class manufacturing facilities dedicated to wind turbine oil additive production.
You can count on our efficient global supply chain.