Responsible Care
Initiative
Responsible Care® Initiative

One of Afton Chemical's core values is to conduct all of our operations in a manner that protects our employees, the communities in which we operate, and the environment. As part of our commitment, we support the guiding principles of Responsible Care®.

Responsible Care® is a global initiative of the chemical industry to improve health, safety, environmental and security performance. Details about the Responsible Care program can be found on the websites of ACC (American Chemistry Council) and ICCA (International Council of Chemical Associations). Afton is a founding member of Responsible Care, having been involved since it started in the U.S. in 1988. We have implemented Responsible Care management systems at all our U.S. manufacturing sites and our headquarters. Click to download Afton's Responsible Care® policy.
Our president signed the declaration of support to the Responsible Care® Global Charter, formalizing our commitment global across all our operations and activities worldwide. Consequently, we have RC14001® Certified Management Systems at all U.S. facilities (manufacturing, R&D, and headquarters). We have also implemented ISO 14001 management systems at all international manufacturing and R&D facilities.
Afton's Responsible Care® Management System
Our commitment to continual improvement in the management of EHS3 (environmental protection, health, safety, security & stewardship) performance across our entire value chain doesn't end with ACC/ICCA requirements.

Our internal management system is structured around the Plan-Do-Check-Act model, which provides an engine to drive performance and continual improvement.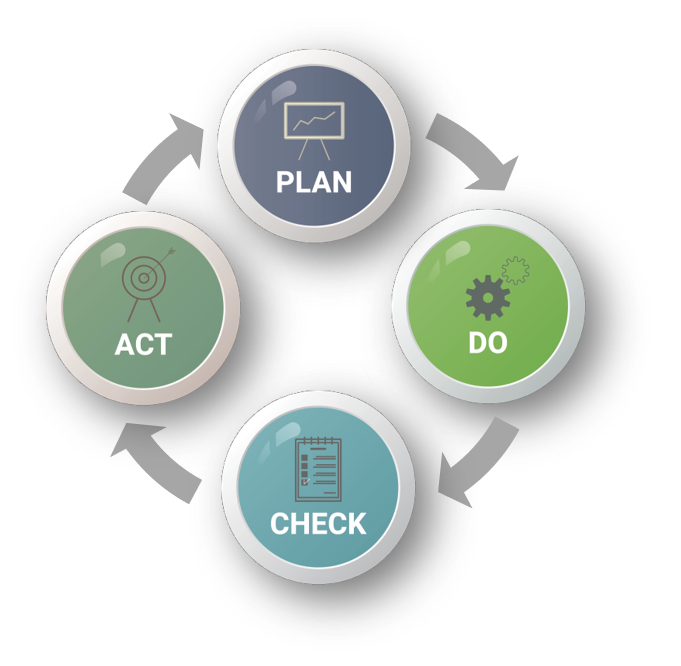 Afton's management system is implemented globally throughout the company based on the RC Guiding Principles. We conduct internal and external audits of our management systems annually to make sure they are in conformance with the relevant standards
Externally Endorsed and Certified: ISO 14001 and RC14001 Certifications
Afton places a high level of importance in achieving and maintaining external certification of EHS management systems. External certification ensures we are continuing to meet these new requirements and driving continuous improvement in our processes and procedures. We leverage our internal auditing and management review processes to examine our performance and evaluate the effectiveness, and any changes that may be needed.
Our Certifications
Richmond, VA Headquarters: RC14001 / ISO 14001
Ashland VA, Technical Center: RC14001 / ISO 14001
Bracknell, U.K.: ISO 14001
Feluy, Belgium: ISO 14001
Houston, TX: RC14001 / ISO 14001
Port Arthur, TX: RC14001 / ISO 14001
Richmond Research & Development: RC14001 / ISO 14001
Rio de Janeiro: ISO 14001
Sauget, IL: RC14001 / ISO 14001
San Juan del Rio: RC14001 / ISO 14001
Singapore: ISO 14001; ISO 45001
Suzhou, China: ISO 14001 and OHSAS 18001
Tsukuba, Japan: ISO 14001
Responsible Care® & Performance Metrics
Afton Chemical reports our EHS3 performance against a set of uniform industry-wide metrics that measure individual company and industry performance.

These metrics identify areas for continual performance improvement and provide a means for communicating to the public our EHS3 performance via the ACC Responsible Care public website.

These metrics are a subset of those used by Afton Chemical to monitor and manage our performance globally in health, safety, environment, security, and product risk.
Recognition & Awards
While external recognition is not our prime motivation, it is always nice to receive accolades for strong performance that flows from hard work and having the right focus. Here are just a few of the awards our sites have earned recently:

2020 American Chemistry Council (ACC) Responsible Care - Facility Safety Awards:
Afton received several facility safety awards highlighting our commitment to keeping employee health and safety at the forefront of our operations and continued dedication to Responsible Care®. Three of our facilities received the 'Excellence' level safety awards: Ashland Technical Center, Ashland, VA; Houston Plant, Pasadena, TX; Port Arthur Plant, Port Arthur, TX. Our Research Center in Richmond, VA, received the 'Achievement' level safety award.

2020 American Chemistry Council (ACC) Sustainability Leadership Award:
Afton received the ACC's Sustainability Leadership Award for Transparency and Collaboration. The award recognizes Afton's new hazard communication and data integrity program which offers improved customer access to the most accurate product health, safety, and environmental information. Click here for the entire ACC press release.

2020 Texas Chemical Council (TCC)/Association of Chemical Industry of Texas - Process Safety Award:
Our Houston Plant received the TCC Award for Zero Process Safety Incidents during the 2019 calendar year.

Royal Society for Prevention of Accidents (RoSPA) GOLD Award:
Afton Chemical Bracknell has been awarded its fourth consecutive GOLD AWARD from the Royal Society for the Prevention of Accidents (RoSPA), a safety advocacy group in the UK. We received this prestigious award for outstanding health and safety performance in 2019, as compared and benchmarked with other organizations.

Voluntary Protection Program (VPP) Awards
OSHA recently recertified our Sauget site as a STAR site under the OSHA Voluntary Protection Plan (VPP) program. We are one of only 2,129 sites, out of approximately seven million sites and workplaces currently under OSHA jurisdiction, that have achieved the honor of being recognized as an OSHA VPP STAR certified site. Our Sauget site achieved its original STAR designation in 2001 and has now successfully recertified three times with the most recent audit completed in August 2019. The commitment of being a long-term OSHA VPP STAR site is challenging and requires a consistent commitment to continuous improvement in partnership with our employees. While we celebrate and appreciate the VPP Star status, the real honor belongs to the employees for their hard work in building and nurturing our site safety culture.

Afton's Sauget team also received the 2019 Outreach Award as Mentor of the Year. The award was in recognition for the team's mentorship of Prairie State Energy on their journey to receiving the VPP Star status. The purpose of the VPP Outreach Award is to provide recognition to "VPP Ambassadors". This award recognizes those who achieve an outstanding level of outreach activity and encourage others to share their knowledge. This award recognizes the Sauget Safety Liaison Team for playing a key role in this mentorship.

For more information on Afton's Responsible Care program, please contact:
Karen Carter, Director EHS
3
, Responsible Care
Afton Chemical Corporation
Phone: +1-804-788-5758
Email:
[email protected]
Responsible Care is a registered service mark of the American Chemistry Council.