Helping Heavy Duty Engine Oils Meet the Challenges of Bharat Stage VI
---
The Indian commercial vehicle (CV) landscape continues to grow in parallel to achieving the latest emission standards. As the inclusion of diesel particulate filters in newer vehicles is now occurring, reduced SAPS oils such as API CK-4 and ACEA E6 are starting to see an increase in demand within the market. Afton is well positioned to support Indian OEMs and oil marketers as the transition to new technology gains momentum, with a portfolio of tested and cost-optimized additive solutions for both factory and service fill.
Concern over air quality in cities has seen India tightening its emissions standards with unprecedented speed. After its 2018 introduction in Indian cities, Bharat Stage VI (BS VI) was implemented nationwide from April 2020.
Whereas Europe progressed from Euro IV emissions standards to Euro VI over a period of nine years, the Government of India has moved from its (equivalent) BS IV to BS VI standards in just three years, skipping BS V entirely.
BS VI governs ALL new On Road vehicles in India: both heavy and light duty diesel vehicles as well as 2-, 3- and 4-wheel light duty petrol vehicles. Off Road vehicles are subject to separate TREM and CEV legislation, which are not discussed here.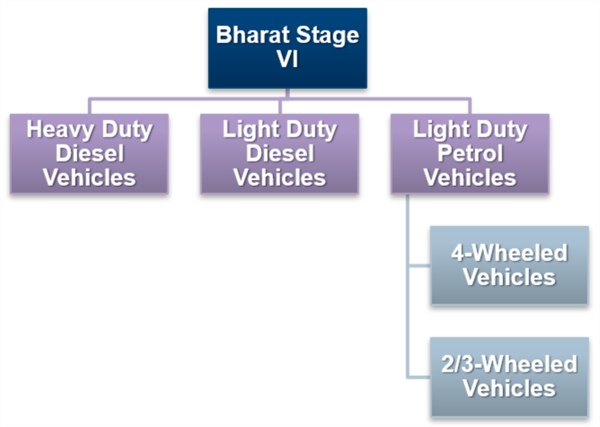 What's included in the Bharat Stage VI emissions standard?
Moving from BS IV to BS VI has involved significant changes:
88% reduction in NOx
50% reduction in particulate matter (PM)
Introduction of particulate number measurement (PN)
Adoption of worldwide test driving cycles – WHSC and WHTC (considered more representative of real world vehicle operation)
Addition of in-service compliance (ISC) checks using on-board diagnostics (OBD) (NOx only from April 2020; adding PM mass and CO from April 2023)
All commercial vehicles (CVs) manufactured after April 2020 must meet these BS VI emissions standards, bringing India in line with global emissions standards and placing the country on a par with Europe, the US and China.
Indian CV OEMs have had to apply additional exhaust aftertreatment technologies on all their new truck models in order to comply. Engine oils must therefore now be compatible with all the sensitive aftertreatment systems in use.
What is happening with fuel economy?
In addition to stricter emission requirements, India has simultaneously tightened its fuel economy standards, which also helps to reduce emissions. Phase I was introduced in 2018 and Phase II is due in 2021, both of which apply to importers of new vehicles as well as Indian OEMs.
This adds further complexity for the heavy duty engine oil: the need for greater fuel efficiency will drive down fluid viscosity, which can influence other aspects of its performance.
What's the impact to the Indian OEM landscape?
The landscape for new CVs is far less fragmented in India than it is in Europe or the US, with the two biggest CV OEMs having over 80% market share: Tata at 59% and Ashok Leyland with 25%.
Both OEMs have moved on from using just exhaust gas recirculation (EGR) or selective catalytic reduction (SCR) to using both, as well as adding diesel particulate filters (DPFs). This brings Indian manufacturers in line with the technologies used by European OEMs, although their strategies are slightly different.

Although the aftertreatment system is reflective of what most European OEMs use, the challenges faced are very different. The primary reason for this is the lower combustion temperature Indian vehicles experience, which can create problems for DPF regeneration. To improve this, OEMs look to processes such as fuel injection - which helps increase the temperature - enabling particles to be burnt off. Although positive for DPF regeneration, it also brings a negative impact to fuel economy as fuel dilution of the engine oil can occur. To combat this, some OEMs use external regeneration lines which minimize the fuel dilution impact of the engine oil.
Diesel fuel quality in India
Ultra low sulfur diesel fuel has already been introduced in India to support sensitive SCR and DPF aftertreatment technology. In 2000, diesel sulfur levels in India were around 2500ppm, stepping down to just 50ppm by the time BS IV came in a decade later. By the end of 2019, just prior to the nationwide introduction of BS VI, diesel fuel with just 10ppm sulfur was available in almost half of all Indian fuel stations. Now with the introduction of BS VI, all fuel stations must deliver ultra low sulfur fuel in the country.
Impact on HDEO specifications
Less sulfur in the fuel means less acid build-up in the engine oil, so less detergency is needed. This allows the levels of sulphated ash, phosphorus and sulfur (SAPS) to be reduced in the engine oil, which further helps in the protection of aftertreatment systems.
Together, the engine oil specification and level of sulfur in diesel fuel will influence the choice of additive package. Demands for improved fuel economy will also drive fluid viscosities lower, adding further complexity for formulators. Fortunately, Afton's portfolio of heavy duty engine oil solutions is ready to deliver the right level of performance for every context.
This drive to reduce SAPS means that lower tier oils, such as the API CI-4 and CI-4 Plus oils (higher SAPS), will become less widely utilized. Areas where higher sulfur fuels are still used will be suited to these oils with additive packages such as HiTEC
®
12200 and HiTEC
®
12050.
The advent of BS VI has seen these engine oil specifications replaced with the use of reduced SAPS API CK-4 oils being recommended by the main Indian OEMs. Areas with lower sulfur fuels and these reduced SAPS oils can benefit from additive packages such as HiTEC
®
12210M and HiTEC
®
12208.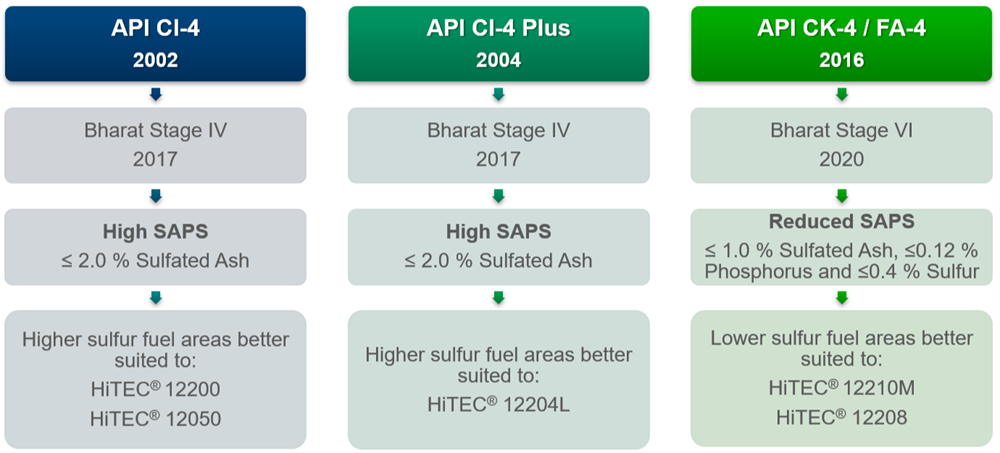 Impact on Indian commercial vehicle market
Many OEMs were producing BS VI compliant CVs by the start of 2020 but were left holding considerable stock of BS IV vehicles. These were heavily discounted prior to the April 2020 deadline, and in addition to the COVID-19 pandemic, India saw depressed sales of BS VI trucks for the remainder of the year - although sales started to pick up again by December.

Most likely the sales upturn was prompted by the Indian government announcing a subsidized scrappage scheme for older CVs, which came into force in October 2021. After this date, any CVs over 15 years old will need to undergo an annual fitness test in order to remain on the road. If it does not pass this stringent test, the vehicle will have to be scrapped.

A voluntary scrappage scheme will also support the introduction of newer vehicles by offering financial incentives to vehicle owners. This includes waiving new CV registration fees, a 5% OEM discount for replacing a certified scrapped CV, and scrapyards paying 4-6% of the new CV price for scrapped CVs.

Leading by example, all government- and public sector-owned CVs over 15 years old are due to be scrapped by October 2022, which will also remove the need for any fitness certifications.

Impact on Indian HDEO market
HDEO growth in India has already outpaced Europe as well as other emerging markets such as South Africa and Russia.

These new scrappage initiatives mean that sales of BS VI CVs are predicted to increase during 2021 and 2022. In turn, there will be a growing demand for API CK-4 engine oils in the market.

Looking to the future, OEMs will therefore increasingly be looking for engine performance and cleanliness over extended drain intervals, the fuel economy benefits of lower viscosity engine oils, and reduced SAPS content to protect exhaust aftertreatment systems.

With Afton's additive solutions already field-tested and OEM-approved for BS VI, we are perfectly positioned to support the Indian market in its transition to the latest technology.

For more information, please contact your Afton representative.