HiTEC® 12400 There for the long haul. Afton is here for all your Heavy Duty Engine Oil needs.
---
In today's modern world, truck fleets with the latest engine technology are constantly looking to maximise their engine oil to provide Total Cost of Ownership benefits, including longer drain intervals, improved fuel efficiency, and less time needed off the road.
HiTEC
®
12400, Afton's latest Top Tier Heavy Duty Engine Oil additive, is designed to deliver the ultimate performance:
Unites top tier performance driven by Europe, the Americas and China, providing a truly global product
Technology designed to meet latest industry and OEM demands

SAE 5W-30, delivering strong fuel economy performance – reducing cost of ownership
Performance reserve seen in key areas such as wear, oxidation control and piston cleanliness

Future-proofed to meet ACEA E8 and ACEA E11 requirements**
** based on Afton's current understanding
Request the HiTEC® 12400 Product Snapshot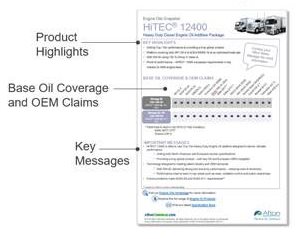 If you would like a copy of our HiTEC® 12400 Product Data Sheet and Snapshot, contact us using the form below.