TGDI: Smaller Engine. Bigger Efficiency
---
Nothing drives car engineering more than fuel economy. Even a 0.1% improvement in efficiency is seen as a win in the automotive industry. Turbocharged Gasoline Direct Injection (TGDI) technology is only one of many advancements that have come out of the need for greater fuel efficiency, but its adoption by car manufacturers across the globe moves at different speeds.
See interactive map below and click on the numbers to view each region's TGDI engine demands.
In North America, TGDI engine technology currently accounts for more than 50% of new vehicle registrations. TGDI is rapidly changing the landscape of the North American car park, which will be a primary catalyst for developing new engine oils.
In Latin America, we see Mexico (see map below) leading the manufacturing of this type of engine, mostly pushed by NAFTA demand. In a few years, it is expected that TGDI will be broadly available for new cars in this market.
China, one of the world's largest markets for passenger vehicles, will continue to experience increased TGDI engine production. Concerns regarding emissions and fuel economy will further propel the growing number of TGDI engines.
In South America, the production rate of TGDI is growing at a slower rate. In 2022, about 25% of regional engine production will be equipped with such technology, though the impact on the car park may be higher due to imports.
Solving The Unique Challenges of TGDI Engines
Although TGDI technology is helping manufacturers meet increasingly stringent fuel economy requirements, it also presents its own challenges. TGDI engines have been proven to increase application severity for the lubricant. This has prompted the development of a new industry category, ILSAC GF-6, to address the specific performance demands of TGDI engines.
The most significant change proposed for GF-6 is the introduction of a new test to evaluate the capability of the lubricant to protect the engine from low speed pre-ignition (LSPI). LSPI occurs when there is a premature ignition of the main fuel charge, resulting in very high pressure spikes, loud noise, power loss, increased fuel consumption and sometimes catastrophic damage to the engine. TGDI engines are more susceptible to LSPI than their earlier engine counterparts due to their improved combustion efficiency.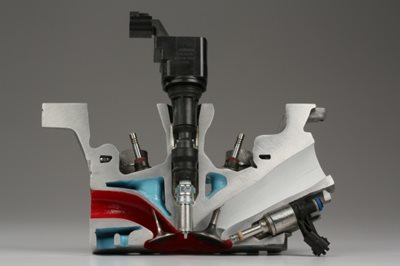 Cutaway of TGDI engine
The industry has been actively working to deliver ILSAC GF-6 with LSPI prevention performance, but has been repeatedly delayed by issues in the definition of other new engine tests. First licensing for GF-6 is now anticipated in 2Q 2020. This is a major concern for engine manufacturers as it has been recognized that the majority of current market GF-5 oils will not provide optimum protection against pre-ignition in TGDI engines.
The Advent of API SN PLUS
To meet this issue head-on, a new interim industry category has been created. Referred to as API SN PLUS, this category provides the addition of pre-ignition protection to the existing industry specification and addresses potential LSPI issues for cars on the road today. The new API SN PLUS specification is anticipated to be finalized for first licensing in 1Q2018.
Afton has identified new additive package technologies to meet the demand for this new specification, which is expected to have wide global interest given the rate of adoption of TGDI engine technology in different regional markets. The new API SN PLUS additive package technology represents a significant advance in protection for TGDI engines versus ILSAC GF-5. Since unpredicted incidences of LSPI can potentially result in major engine damage, it is expected that engine manufacturers will make this new specification the basis of their recommendations for their TGDI engines worldwide.

Read more about API SN PLUS and LSPI, or contact an Afton representative for more details about our PCMO product offerings.