Afton Chemical Suzhou Supports Lanzhou Institute of Chemical Physics Scholarship Program
---
Afton Chemical Suzhou is pleased to sponsor the Lanzhou Institute of Chemical Physics (LICP) scholarship program for a second term. The hybrid signing ceremony was held on 18th December 2021 during LICP's annual meeting and attended by approximately 100 guests comprising LICP management, local key researchers, and students. Ke Jian Liang, Technology Director, Afton Chemical Asia, presented a RMB 500,000 cheque to LICP for a second-term scholarship sponsorship on behalf of Afton Chemical. The scholarship is designed to provide support and development to LICP's Master and Ph.D. candidates in their lubricant and additives research.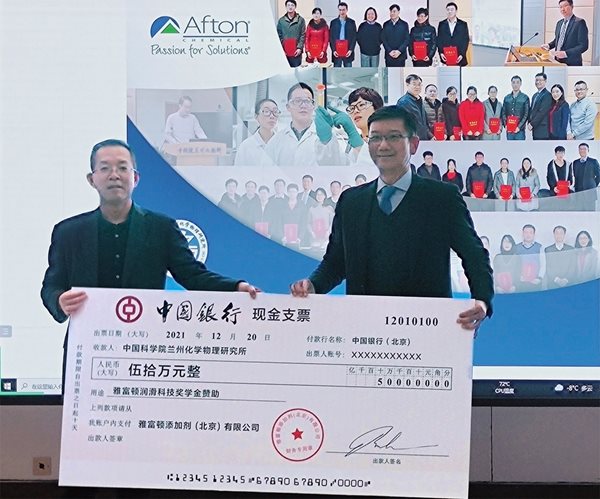 "In line with our 'Made For' strategy, this scholarship will enable both Afton and LICP to share and discover insights on the fuels and lubricants additive industry's key challenges and develop future technologies to deliver value to the industry's development and our customers," said Liang. Afton's 'Made For' strategy is built on the intent to understand the dynamics of each market and ensure we are developing the correct solutions based on regional demand and needs.
Over the first term, 25 scholarship recipients produced excellent research outputs in chemistry and physical sciences that play an important role in helping the industry develop innovative solutions.

Fuel Dilution for Hybrid cars Project Collaboration
Apart from the research topics, Afton and LICP collaborated on a fuel dilution project that studies the key challenges of fast-developing hybrid cars. Based on the findings, we have gained valuable insights on hybrid engine oil requirements and co-authored a paper titled 'Fuel dilution impact on the performance of hybrid cars.'  
Non-routine Analytical Test Support
LICP is also supporting Afton with non-routine analytical testing with state-of-the-art analytical laboratory equipment, providing credible testing as an independent 3rd party following China's GB/SH standards which are critical to our domestic customer needs.
Future Collaboration on Dual-Tutors Program
In the next five years, Afton and LICP will continue to develop research and technology collaboration as well as partner on a Dual-Tutors program. Through this program, Afton experts and LICP researchers can leverage each other's profound research background and rich experience, bringing mutual benefits and insights to both Afton and LICP researchers in the area of tribology and lubrication.

Building future leaders and experts in the fuels and lubricants industry
Through this scholarship, Afton and LICP are jointly building a pipeline of talented individuals that can bring significant contributions to our sector. Afton wishes to inculcate our longstanding philosophy, Passion for Solutions®, in this pool of future leaders. It is through our inspiring and enthusiastic people, combined with our expert and innovative chemistry that we are able to deliver effective solutions for our customers.
We are happy to see the LICP scholarship recipients joining the lubricants industry and working together with Afton. We hope to continue challenging LICP scholarship incumbents with exciting and meaningful projects that help to facilitate their ongoing development.
For further information, please contact:
AP: Chong Kit Lee on +65 6739 6330 or
[email protected]
EMEAI: Kate Edrupt on +44 1344 356823 or
[email protected]
NA: Lauren Packard on +1 804 788 6081 or
[email protected]
About Afton Chemical Corporation:
Afton Chemical Corporation is part of the NewMarket Corporation (NYSE: NEU) family of companies. Afton Chemical Corporation uses its formulation, engineering, and marketing expertise to help their customers develop and market fuels and lubricants that reduce emissions, improve fuel economy, extend equipment life, improve operator satisfaction and lower the total cost of vehicle and equipment operation. Afton Chemical Corporation develops and sells an extensive line of unique additives for gasoline and distillate fuels, driveline fluids, engine oils, and industrial lubricants. Afton Chemical Corporation supports global operations through regional headquarters located in Asia Pacific, EMEAI, Latin America, and North America. Afton Chemical Corporation is headquartered in Richmond, Virginia. For more information, visit
www.aftonchemical.com
.