L'une des principales valeurs d'Afton Chemical est d'agir d'une manière qui protège notre personnel, les communautés dans lesquelles nous travaillons et l'environnement. Dans le cadre de notre engagement, nous soutenons les principes directeurs de Responsible Care®.
Responsible Care® est une initiative mondiale de l'industrie chimique pour l'amélioration des performances en matière de santé, de sûreté, d'environnement et de sécurité. Des informations détaillées sur le programme Responsible Care sont disponibles sur les sites Web de l'ACC (American Chemistry Council) et de l'ICCA (International Council of Chemical Associations). Afton est un membre fondateur de Responsible Care, impliqué depuis sa création aux États-Unis en 1988. Nous avons mis en place les systèmes de gestion Responsible Care dans tous nos sites de fabrication aux États-Unis et au siège de l'entreprise.
Notre président a signé la déclaration d'adhésion à la charte mondiale Responsible Care, étendant notre engagement à toutes nos opérations et activités dans le monde. en conséquence, nous avons mis en place des systèmes de gestion certifiés RC14001® dans toutes nos installations aux États-Unis (fabrication, R&D et siège). Nous avons aussi mis en place des systèmes de gestion ISO 14001 dans toutes nos installations de fabrication et R&D à l'international, avec une conformité ISO 14001 minimale sur tous les sites.
Système de gestion Responsible Care® d'Afton
Notre engagement à améliorer en continu la gestion des performances de santé, de sûreté, de protection de l'environnement et de sécurité (Health, Safety, Environmental protection and Security, EHS3) au niveau de l'ensemble de notre chaîne de valeurs ne se limite pas aux exigences de l'ACC/ICCA.
Notre système de gestion interne s'articule autour du modèle Policy-Plan-Do-Check-Act (Politique-Planifier-Appliquer-Vérifier-Agir), qui permet d'atteindre les performances et l'amélioration continue.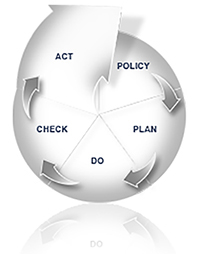 Le système de gestion d'Aton est mis en place dans l'ensemble de l'entreprise, sur la base des principes directeurs RC. Nous effectuons chaque année des audits internes et externes de nos systèmes de gestion pour vérifier qu'ils sont conformes aux normes applicables. Le système est constitué des sections suivantes :
Politique et leadership (Policy)
Planification (Plan)
Mise en œuvre, opération et responsabilité (Do)
Mesure des performances, mesure corrective et action préventive (Check)
Analyse de la gestion (Act)
Nos certifications
Sauget, IL : RC14001®
Siège de Richmond, VA : RC14001
R&D, Richmond : RC 14001
Centre technique d'Ashland, VA : RC 14001
Port Arthur, TX : RC14001
Bedford Park, IL : RC14001
Feluy, Belgique : ISO 14001
Hyderabad, Inde : ISO 14001
Rio de Janeiro : ISO 14001
Suzhou, Chine : ISO 14001 et OHSAS 18001
Manchester & Bracknell, R.-U. : ISO 14001
Responsible Care® ; Mesure des performances
Afton Chemical publie nos résultats EHS3 grâce à un ensemble de chiffres uniformes pour le secteur qui mesurent les performances de l'entreprise et du secteur.
Ces chiffres identifient les points qui nécessitent une amélioration continue des performances et constituent un moyen de communiquer au public nos résultats EHS3 via le site Web public de l'ACC Engagement Responsable.
Ces chiffres sont une partie des chiffres utilisés par Afton Chemical pour surveiller et gérer nos résultats mondialement en matière de santé, de sûreté, d'environnement, de sécurité et de risques relatifs aux produits.
Pour plus d'informations sur le programme Responsible Care d'Afton, contactez :
Kevin Steding, Directeur EHS3, coordinateur Engagement Responsable®
Afton Chemical Corporation
Téléphone : +1-804-788-5095
E-mail :
[email protected]