Afton to present at Lubricant Expo, 26-28 September in Essen, Germany

We are excited to announce that Afton Chemical will present at the upcoming Lubricant Expo conference and exhibition on 26-28 September in Essen, Germany.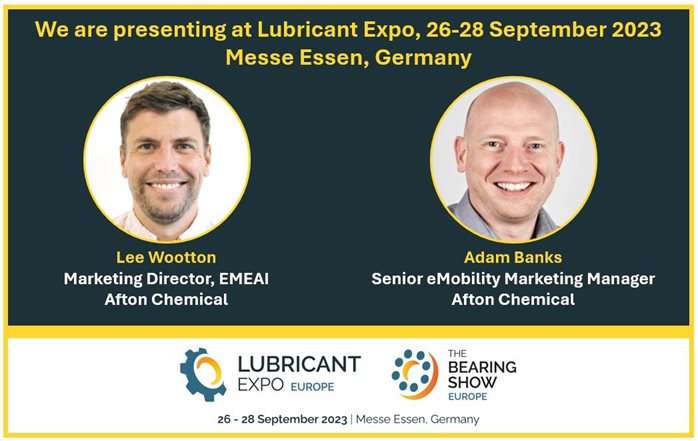 Lee Wootton, Marketing Director for Afton in EMEAI, will be a panellist for the opening keynote session at 9.30am on Tuesday 26 September, which will discuss 'The Lubricant Industry in 2023: Where Are We Now and Where Are We Going?'. Lee will be joined by other panellists from Shell Global Solutions, Kline, and Zuknuft.
Adam Banks, Senior eMobility Marketing Manager for Afton, will also be participating in a panel discussion covering 'Meeting the Complex Needs of Tomorrow's Heavy Duty Architectures – Solutions for a Diverse Range of Powertrain Technologies'. This will take place on Wednesday 27 September at 9.30am. In this session, Adam will join other panellists from Volvo Construction, Aurorium, and Scania.
We will also have other Afton delegates in attendance at the event, so we look forward to networking with others from across the industry.
Lubricant Expo is Europe's largest exhibition and conference, connecting lubricant solution providers with the full range of end-user buyers, as well as the entire chemical and equipment supply chain, with thousands of engineers and executives in attendance. Visitors from both the lubricant community and end-users can find a comprehensive showcase of all lubricant technologies, including finished lubricants, additives, process equipment and machinery, condition monitoring, automation systems, testing and analysis, data technologies, lubricant manufacturing equipment, end-user application systems and more.
For more information or to register to attend this free event, visit:
Lubricant Expo 26th - 28th September 2023