Afton to present at Lubricant Expo, 6-8 September in Essen, Germany

We are excited to announce that Afton Chemical will be presenting at the upcoming Lubricant Expo conference and exhibition on 6-8 September in Essen, Germany.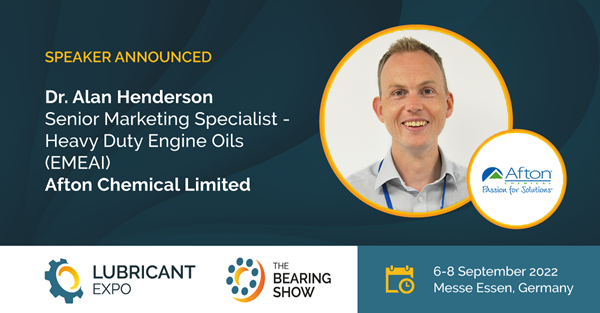 Dr. Alan Henderson, Senior Marketing Specialist for Heavy Duty Engine Oils for Afton in EMEAI will present on Meeting the Unique Needs of Heavy Duty Engines. Across all global markets - government legislation and OEM requirements have targeted lower viscosity oils to help improve fuel economy and reduce CO2 emissions. But with fuel prices recently reaching an all-time high, the need to improve fuel economy in heavy-duty fleets is now more critical than ever to help reduce the everyday running costs of trucks.
This session will look at:
Global trends affecting the heavy-duty engine oil market
Fuel economy and the move to lower viscosity engine oils
The impact of fuel economy and engine oils for Off-Road vehicles
The future for Commercial Vehicles in Europe
This session will take place on day 2 (7 September) at 11.10am. We will also have other Afton delegates in attendance across the event, so we look forward to networking with others from across the industry.
Lubricant Expo is Europe's first free-to-attend exhibition and conference, connecting lubricant solution providers with the full range of end-user buyers, as well as the entire chemical and equipment supply chain. Visitors from both the lubricant community and end-users will find a comprehensive showcase of all lubricant technologies, including finished lubricants, additives, process equipment & machinery, condition monitoring, automation systems, testing & analysis, data technologies, lubricant manufacturing equipment, end-user application systems and more.
For more information, or to register to attend this free event, visit:
https://lubricantexpo.com/
.