Afton Hosts Annual Key Driver Seminar at STLE 2023
We are pleased to announce that we will be holding our annual Key Driver Seminar during STLE's Annual Meeting & Exhibition in Long Beach, California, on May 24th. We hope you can join us.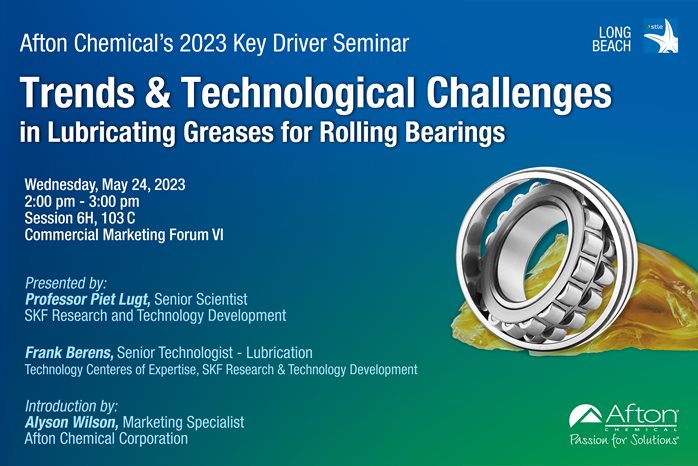 In addition, several Afton experts are presenting papers throughout the meeting. See below for details.
Monday, May 22nd
1:30 – 2:00 pm
Various Copper Corrosion Test Methods for Electric Drivetrain Fluid Evaluations
Session 2I, Electric Vehicles II, 104A
Afton Presenters: Yungwan Kwak, Chris Cleveland
4:00 – 4:30 pm
Performance Characteristics of Some EV Drivetrain Lubricants Under Electrified Conditions
Session 2I, Electric Vehicles II, 104A (w/Texas A&M)
Afton Presenters: Bill Anderson, Yungwan Kwak
Tuesday, May 23rd
8:30 – 9:00 am
Formulating for an Increasingly Complex Industrial Gear Landscape
Session 3G, Gears I, 103B
Afton Presenter: Paul Norris
2:00 – 2:30 pm
Industrial Gear Efficiency Demonstration
Session 4G, Gears II, 103B
Afton Presenter: Andrew Gant
Wednesday, May 24th
10:30 – 11:00 am
The Matrix Revisited: The Exploration of Additive Choice with Different Thickener Types
Session 5M, Grease I, 202A
Afton Presenter: Joe Kaperick
Thursday, May 25th
2:00 – 2:30 pm
The Engine Oil Effect on Fuel Economy Improvement in Different Test Types
Session 8I, Electric Vehicles and Engine and Drivetrain VIII - 104A
Afton Presenter: Jeff Yang

We look forward to connecting with you during the event!