Top 7 Questions on ILSAC GF-7
---
The ILSAC specification is uniquely important in the North American market as the minimum standard for vehicle warranty. However, a specification such as ILSAC GF-7 is only truly effective if it fully meets the needs of all industry parties globally. The OEMs need something beyond the current GF-6 specification to help them with future EPA demands, as they were disappointed with the inefficiency of the process that the industry used to develop GF-6.
It is essential for the industry to support the OEMs with a meaningful performance upgrade for GF-7 and to finalize and introduce GF-7 as efficiently as possible, providing the OEMs with the maximum potential benefit towards future compliance. Afton are committed to supporting the launch of GF-7 because we believe it is the right approach for OEMs, oil marketers, and additive participants. A robust ILSAC specification is vital for the North American PCMO market.
See below for key questions about GF-7 that Afton addresses to support this industry initiative.

What are the key benefits of GF-7?
Improved fuel economy and oxidation control
The principal changes in GF-7 are tighter performance demands in Sequence VIE fuel economy and Sequence IIIH oxidation & deposit control. Both changes are designed to help the OEMs meet the challenges of future EPA emissions targets and ensure that engines have minimal energy losses due to viscosity or friction while simultaneously enabling newer engine designs to operate at even greater levels of combustion efficiency and increasing the thermal stress on the oil. Although other industry participants believe these performance targets cannot be adjusted concurrently, a review of previous ILSAC category changes highlighted in the spider chart below indicates that since ILSAC GF-3, fuel economy, and engine oil robustness have consistently increased together.

Expanded pre-ignition protection
In addition to changes in fuel economy and piston cleanliness, the proposed GF-7 specification includes a new variant of the Sequence IX test which evaluates aged-oil pre-ignition protection. The industry has developed this test and is ready for adoption as API SP PLUS. Still, the inclusion in ILSAC GF-7 for 2025 is a more efficient commercial pathway for oil marketers requiring only one change in product licensing and labeling. The proposed limits for the aged oil pre-ignition test are maintained at the current GF-6 Sequence IX level, although significantly superior pre-ignition control is delivered by most market formulations.
Improved timing chain wear protection
The final change in engine test performance proposed by the current draft GF-7 proposal is an improvement in timing chain wear protection in the Sequence X test to address field concerns of specific OEMs in select engine designs. This improvement represents a minimal 5% change in wear performance versus GF-6 that is readily achievable.


Improved low-temperature properties and other bench-test changes
The other proposed changes to the draft GF-7 specification are to industry bench tests and viscosity. These include improved low-temperature pumpability, tighter sulfated ash targets, and new test requirements for engine oil gelation performance and elastomer seal
performance, as requested by the OEMs. Field issues, engine design changes, and new government regulations are driving these performance improvements. The specific tests for engine oil gelation and seals are still under development within the industry, and every effort should be made to include these tests in GF-7 to prevent OEM field issues in these performance areas.

What other performance benefits are expected to be included in GF-7?
Added protection for Hybrid engines
At an industry presentation in Detroit in May, Afton proposed to expand the scope of ILSAC GF-7 with a specific definition of performance targets for hybrid engines. Industry stakeholders have highlighted similar concerns for hybrid operation in different industry forums. The hybrid GF-7 specification would align with the proposed OEM limits for GF-7 but also include additional demands for improved low-temperature valve train wear, corrosion protection, emulsion stability, and reduced sulphated ash to address the unique operational demands of a hybrid configuration. Under certain modes of operation, a hybrid might present the engine oil with a more severe operating environment leading to specific performance issues not usually seen in a typical ICE configuration. As these enhancements for hybrid operation would also provide additional performance reliability for ICE engines, the tighter performance targets could be readily included in the base ILSAC GF-7 specification if required by the OEMs.
See below to view Afton's presentation.

Why is a first-quarter 2025 launch a good proposal for GF-7?
The next significant change in EPA emissions targets applies to model year 2025 vehicles. The primary change within the EPA legislative targets is a further reduction in CO2 emissions, which can only be achieved by using less fuel, and this represents a 9% increase in vehicle fleet fuel efficiency for OEMs to target. Further advances beyond 2025 for future model years mean an additional increase of 10% or greater in fuel efficiency. These stringent targets require a range of approaches for the OEMs, including using electric and
hybrid designs to reduce fleet fuel consumption. Still, any benefit in engine oil robustness or fuel efficiency that the OEMs could utilize towards these targets in an ICE configuration would be a huge benefit. This is the primary reason behind targeting a first-quarter 2025, first licensing date for GF-7 so that improved technology options could be available to OEMs for vehicle certification.

What is the process the industry will follow to finalize GF-7?
When the OEMs propose a new industry specification, there is a defined period for oil marketers and additive companies to assess capability against the draft specification in what is referred to as a technology demonstration or tech-demo period. Once all parties have had a chance to gauge performance, the proposed limits are reviewed and finalized upon negotiation. A key element in tech-demo is to ensure that the proposed targets are realistic and achievable, such that once the specification is final, after a further period of time defined as the API waiting period, oil marketers and additive companies can efficiently complete their formal qualification programs ahead of first licensing date for the new category.
To streamline the market introduction of ILSAC GF-7 and avoid the unnecessary delays of the previous category that are unacceptable to the OEMs, Afton have already completed a GF-7 demonstration program that fully meets all the proposed GF-7 targets. A summary of the Afton GF-7 demonstration program is in the table below, which illustrates that the level of performance the OEMs require for GF-7 is realistic and achievable. In addition, the Afton demonstration program shows that all the performance targets of the initial Afton GF-7 specification proposal and the recent hybrid GF-7 extension can be readily achieved. The demonstration program does not constitute a full product qualification, additional testing would be needed to provide the base oil and viscosity grade coverage of a commercial platform, but this indicates that Afton are ready to move into product qualification and have already completed the tech-demo in support of the OEM proposal for GF-7.

How has Afton prepared for GF-7?
The primary GF-7 initiative for Afton is supporting the OEMs by assisting in future certification testing against EPA legislative requirements to ensure acceptable vehicle reliability under warranty using the ILSAC industry specification. To achieve this, Afton believe that the GF-7 performance upgrade should be meaningful and efficient, and we have focused Afton resources to provide leadership within the industry to deliver this objective. This activity aligns with our corporate vision and is designed to reassure the OEMs that improved lubricant technology can be available to meet their specific needs rather than a compromised alternative.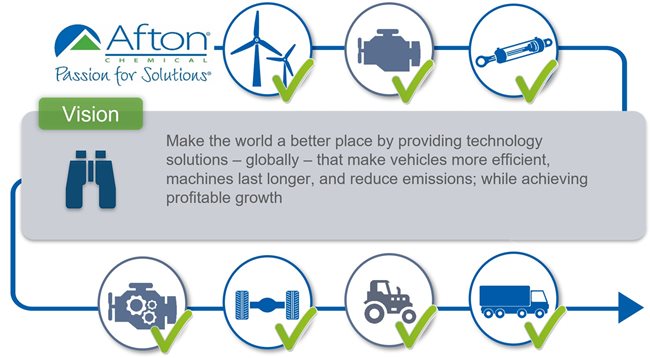 Secondarily, Afton sees the North American PCMO market facing increasing complexity with the introduction of IFC specifications. Supporting the ILSAC specification benefits the entire industry, and specifications within the industry must be complementary. The development of IFC specifications for application in the North American market is in progress and not currently aligned with GF-7. Still, it would benefit oil marketers and consumers if there was a commonality between the different potential market specifications.

What about GF-8?
OEMs are requesting GF-7 introduction in 2025 while already looking ahead to GF-8. OEMs requested performance improvements beyond what is included in GF-7, as well as the need for some replacement engine tests that won't be ready until at least 2028. The initial Afton proposal to the industry envisioned GF-7 as an important step towards GF-8, efficiently providing short-term benefits of aged oil LSPI and improved fuel efficiency while the industry works on broader improvements requested in 2028. Afton would look to support that activity within the industry. Anticipating that the category lifetime for GF-7 will be in-line with the historical average of 5 years, it should be expected that engine tests developed for GF-8 should be available to the industry for a 2030 introduction. As electrification
accelerates through the decade, OEMs will continue to face significant pressure from regulators to reduce emissions and improve fuel efficiency. ILSAC GF-8 will be extremely important to support continued ICE production and to meet the needs of the significant volume of ICE vehicles in the car parc.

How will Afton meet the demands of GF-7?
Although support for ILSAC GF-7 has been mixed across various industry participants, Afton has received positive feedback from the OEMs on the proposal and has taken the opportunity to promote and publicize GF-7 at different industry meetings and presentation forums worldwide. These activities highlight the need to support the OEMs with better technology in a timeframe aligned with legislative changes but also confirm that GF-7 performance is achievable today in a new custom DI platform through demonstration testing. Although the GF-7 specification limits are not final, the tighter requirements in the Sequence VIE and Sequence IIIH will make GF-7 a more demanding specification that will likely require new technology from the additive companies. Afton are committed to extending the qualification of the GF-7 demonstration technology as soon as limits are finalized and bringing the new platform to commercialization as efficiently as possible ahead of GF-7's first licensing in support of OEMs and customers.
Fill out the form on your left to get in touch with an Afton representative to learn more about GF-7.