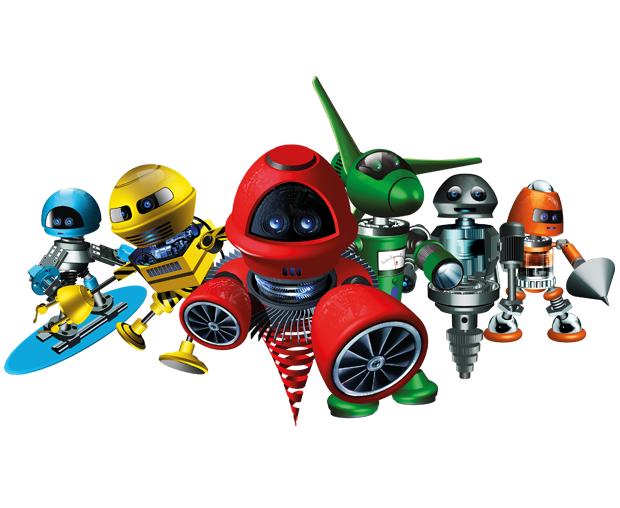 Les champions de la protection et de la performance d'Afton Chemical
Additifs sur mesure pour de nombreuses applications industrielles
Additifs industriels
Découvrez les MicrobotzTM industriels d'Afton
Afton Chemical a créé une famille de sept personnages micro-robots sympathiques et héroïques, appelés les Microbotz™, représentant les sept groupes d'applications du portefeuille de produits industriels.

Les Microbotz™ sont des robots autonomes microscopiques autopropulsés, qui évoluent dans le monde interne du lubrifiant lorsqu'il coule dans les veines des machines industrielles. Leur rôle est de contrôler les lubrifiants, au niveau chimique, et de protéger chaque application contre les divers dangers potentiels tels que l'oxydation, la boue, la corrosion ou les piqûres. Ils travaillent sans relâche pour faire le nécessaire afin de prolonger la durée de vie de l'huile et d'améliorer les performances des machines.

Les Microbotz™ sont une représentation visuelle et symbolique de l'action des additifs industriels Afton jour après jour, au sein des lubrifiants des équipements industriels partout dans le monde, car ils préservent et améliorent la performance.

La couverture mondiale d'Chemical nous permet de rester en contact avec nos clients, nos partenaires constructeurs et les groupes du secteur. Ceci nous permet de développer des additifs industriels personnalisés pour nos clients tout en restant attentifs, au sein du secteur, aux questions environnementales mondiales.

En collaborant avec nos clients et en associant nos compétences et notre expérience, nous pouvons révolutionner la façon traditionnelle de penser, ce qui nous permet de produire des additifs industriels novateurs qui aident nos clients à atteindre leurs objectifs en termes de rentabilité.

Notre technologie de pointe et nos solutions de remplacement aident nos clients à rester au premier plan de leur secteur professionnel.
FAQs
No, the move to GHS SDS and labels does not cause Afton's products to change. There is no change to the chemistry, formulations, hazards, or performance of our products. The change is to how OSHA and other regulatory authorities require us to classify and label our products and how we communicate the hazards.

Yes it is [email protected]

June 1, 2015 is the date that manufacturers in the US must comply with the new OSHA HAZCOM standard. Distributors have until December 1, 2015.
Résumés sur la gestion des produits