What does reduced SAPS engine oil mean for emissions and Total Cost of Ownership?
---
Why are low HTHS oils becoming more important?
Emissions and fuel economy
The global legislative drive for lower emissions, including CO2, includes a focus on improving the fuel economy of heavy duty diesel engines used in Heavy Commercial Vehicles (HCVs).

Commercial vehicle OEMs are responding with new hardware designed to improve fuel economy, which – as fuel can represent around a third of HCV expenditure – also helps reduce the Total Cost of Ownership (TCO) for fleet operators. OEMs are not only considering the following hardware changes but also the impact to the fluid:

Engine downsizing: where engine size and weight is reduced while delivering the same or higher power output. This generates higher engine temperatures, challenging the oil's ability to resist oxidation and continue protecting the engine.

Down-speeding: when the rear gear ratio is sped up to reduce engine speed. This helps the engine run at a more efficient rpm and maintain cruise speed with minimal horsepower, however it also increases the level of torque through the engine and drivetrain, increasing temperatures in components such as bearings.

Stop-start technology: switching off the engine at idle so there is no fuel consumption while the vehicle is stationary. However, more frequent engine re-starts can increase the risk of wear.

From a fluid perspective, to improve fuel economy, you want to minimise energy losses within the engine. Losses are caused by viscous drag within the engine oil, reducing efficiency. Viscous drag becomes particularly apparent where there are very fine tolerances between very hot moving surfaces – such as the camshaft, bearings, piston ring and cylinder liner area. Reducing engine oil viscosity under these conditions in particular can measurably improve fuel economy.

What is low HTHS viscosity?
High Temperature High Shear (HTHS) viscosity refers to the engine oil's dynamic viscosity: i.e. how much its viscosity drops under HTHS operating conditions, and it is measured in centipoise. High HTHS is considered to be above 3.5 cP, Low HTHS is 2.9-3.2 cP, while Ultra Low HTHS is below 2.9 cP – current target is around 2.6 cP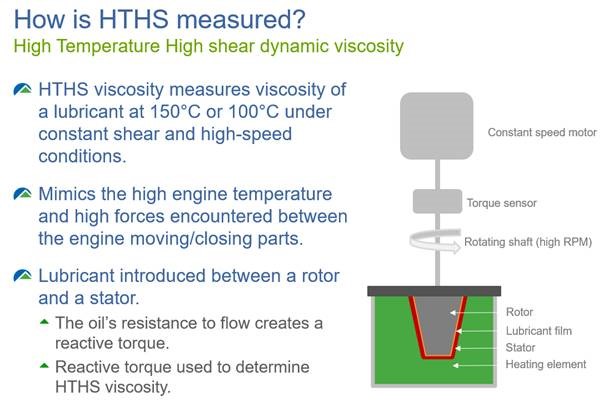 Industry and OEM oil specifications
The industry has responded to fuel economy requirements by updating its engine oil specifications:

North America: The categories split in 2016 into: API CK-4, which remains High HTHS (above 3.5 cP), and the fuel economy-oriented API FA-4, which is Low HTHS (2.9-3.2 cP). US market penetration of Low HTHS oils is still limited; with focus primarily on NOx rather than CO2 reduction, a move to Ultra Low HTHS could be nearer 2027.

Asia Pacific: The China Government mandated an overall vehicle fuel economy reduction target of 15% vs 2015 for all new vehicle sales from July 2021 onwards. Consequently, Chinese OEMs are moving to lower viscosity 5W-30 oils. HTHS >3.5 cP remains but is anticipated to move to 2.9c-3.2 cP or lower by 2023.

Europe: ACEA is considering implementing fuel economy-oriented categories in the next upgrade, which specifies a HTHS below 3.2 cP. These are expected to follow with the launch of ACEA E8 and E11, which focus on lower SAPS and greater oxidation control. OEMs are now the main driving force, especially in Europe, as they look well beyond industry standards to target ultra low HTHS of around 2.6 cP. MAN and Scania have already released specifications, others are expected to follow suit in the next couple of years, ahead of Euro VII emissions standards expected in 2025.

Regional HTHS timings: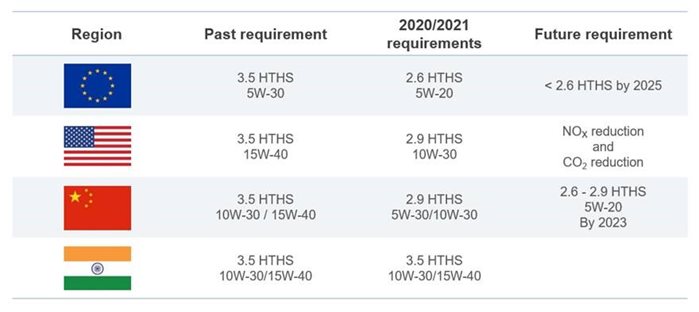 Developing lower HTHS oils
Although lowering the HTHS of a formulation does help improve fuel economy performance, it isn't just a case of changing the base oil and viscosity modifier. Engine durability and protection needs to be considered and maintained as well. A TCO approach of the vehicle should be considered, as there is little point in trading fuel savings for a shortened engine lifespan.

Engine oils not only need to provide a fuel economy benefit but also protect against the possible impact newer hardware components can have on the engine. Oxidation control and wear protection are just as important as fuel economy. Therefore, the additive system needs to be considered as a whole.

Boosting antiwear is an important part of the final formulation. Antiwear performance becomes more challenging at lower viscosities because if the fluid is thinned too much, surfaces can come into contact.

Lowering viscosity is likely to increase the volatility of the fluid. To counteract this, OEMs and industry specs have looked to reduce the permitted volatility. A move to Group III/IV base oils is required, which brings cost implications.

Afton's well-balanced, forward-looking portfolio already has Low and Ultra Low HTHS covered, offering improved fuel economy and engine durability.

The North American On Road and Off Road requirements are served by HiTEC® 12210M Heavy Duty Engine Oil additive, which meets API FA-4 and API CK-4, aswell as ACEA E7 and E9.

Considering the On Road European OEM service fill market, HiTEC® 12400, an ACEA E6 Heavy Duty Engine Oil additive, surpasses their performance requirements.

Asia Pacific heavy duty engine oil market is typically influenced by both American and European specifications, in addition to OEM drivers from China and Japan. As a result, a variety of products including HiTEC® 12210M, HiTEC® 12400 and HiTEC® 12350 are used to satisfy these diverse needs. HiTEC® 12350 is formulated based on Chinese OEM insights on what the OEM need for their new hardware and low viscosity requirement.

Future-proofing with lower HTHS
Afton works closely with OEMs to understand as to how low the HTHS of a fluid could go through completion of field trial activity and in-house testing. Lower HTHS oil demand is expected to ramp up over the coming years to meet tougher emissions and fuel economy requirements.

Wherever you are on the timeline, Afton is well positioned to help you make a smooth transition with the right balance between TCO and performance. Afton has already developed a solution for the next generation European OEM low HTHS specifications - HiTEC® 12600 Heavy Duty Engine Oil additive.

For more information, please contact your Afton representative by completing the form below:
Navigate to see Afton Chemical's Heavy Duty solutions and trends transforming the Automotive industry.
HiTEC® 12400: Top Tier Performance for the long haul