Afton Chemical Asia awarded honourable mention for Best Practices in the Energy Efficiency National Partnership Awards 2021
---
Singapore, 19
th
October 2021, Afton Singapore chemical additive manufacturing facility's air compressor energy reduction project has been awarded honourable mention for the EENP Awards 2021 by National Environment Agency.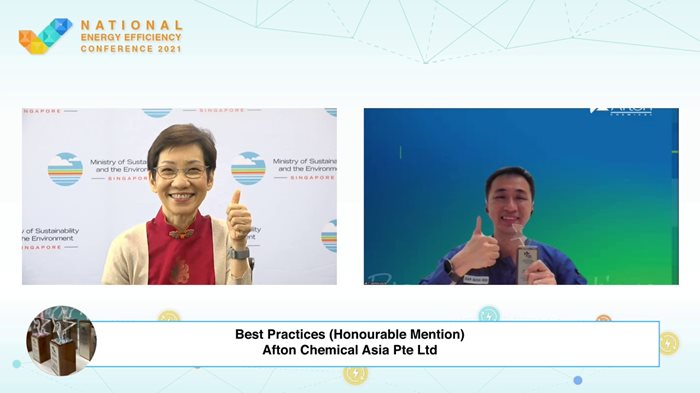 The air compressor energy reduction project has been initiated as part of the company's energy reduction projects aimed at improving energy efficiency and minimizing waste in the facility. Senior Production Engineer, Koh Kar Boon and Maintenance Supervisor, Kumar Varadharajan identified that the batch production nature of the facility with varying start / stop timing for three production units resulted in un-even utilization of compressed air during power handling.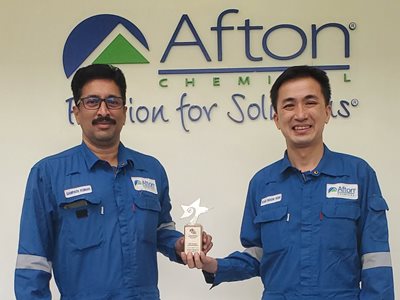 The team studied the pattern of header pressure changes and air compressor performance to get a better understanding of the facility's air consumption. Surge line modelling was used to calculate a varying throttle limit for the compressor and build in last stage pressure against surges. The compressor sequence was also adjusted to adapt the header pressure changes and coasting time. A key challenge is to maintain the stable air supply to the three different production units. Compressor capacity control tuning was done with the help of the OEM team. After the adjustments, only one compressor out of the three is required to keep the facility running. A second compressor starts only occasionally to maintain the header pressure when one compressor is unable to meet the demand.
"Our energy efficiency efforts have not only reaped cost savings, but it also means improved equipment reliability and increased equipment availability. Actual annual energy savings on a system level is 34.2% and 3.2% on a facility level with no CAPEX outlay," says Kew Jin Woon, Plant Manager, Afton Chemical Asia.
Afton Chemical is a global specialty chemical additives company that is committed to delivering innovative fuels and lubricant additives that support a cleaner, sustainable future.
Afton Chemical is also a founding member of Responsible Care under American Chemistry Council (ACC) that helps improve health safety and the environment globally. As members of the ACC, Afton Chemical provides data on twelve sustainability metrics used to track environmental impact, safety and energy use.
"At Afton Chemical, environmental responsibility is built into our Think Lean/Efficient culture which is an integral part of the way we manufacture and do business. Energy efficiency is one of the key metrics that we are always striving to improve on for our equipment and systems. Besides the air compressor energy reduction project, we are concurrently working on hot oil heater operation optimization, process chiller running optimization, tank recirculation pump optimization etc," added Jin Woon.
The EENP Awards is organized annually by the National Environment Agency, Energy Market Authority and the Singapore Economic Development Board since in 2011 to recognize EENP Partners for their efforts and achievements in improving energy efficiency. The EENP Awards aims to foster a culture of sustained energy efficiency improvement in the industry and encourage companies to adopt a proactive approach towards energy management.
END
For further information, please contact:
AP: Chong Kit Lee on +65 6739 6330 or
[email protected]
EMEAI: Kate Edrupt on +44 1344 356823 or
[email protected]
Americas: Lauren Packard on +1 804 788 6081 or
[email protected]
About Afton Chemical Corporation:
Afton Chemical Corporation is part of the NewMarket Corporation (NYSE: NEU) family of companies. Afton Chemical Corporation uses its formulation, engineering and marketing expertise to help their customers develop and market fuels and lubricants that reduce emissions, improve fuel economy, extend equipment life, improve operator satisfaction and lower the total cost of vehicle and equipment operation. Afton Chemical Corporation develops and sells an extensive line of unique additives for gasoline and distillate fuels, driveline fluids, engine oils and industrial lubricants. Afton Chemical Corporation supports global operations through regional headquarters located in Asia Pacific, EMEAI, Latin America and North America. Afton Chemical Corporation is headquartered in Richmond, Virginia. For more information, visit
www.aftonchemical.com
.
Cautionary Note Regarding Forward-Looking Statements:
Some of the information contained in this press release constitutes forward-looking statements within the meaning of the Private Securities Litigation Reform Act of 1995. Although NewMarket's management believes its expectations are based on reasonable assumptions within the bounds of its knowledge of its business and operations, there can be no assurance that actual results will not differ materially from expectations.
Factors that could cause actual results to differ materially from expectations include, but are not limited to, the availability of raw materials and distribution systems; disruptions at production facilities, including single-sourced facilities; hazards common to chemical businesses; the ability to respond effectively to technological changes in our industry; failure to protect our intellectual property rights; sudden or sharp raw material price increases; competition from other manufacturers; current and future governmental regulations; the gain or loss of significant customers; failure to attract and retain a highly-qualified workforce; an information technology system failure or security breach; the occurrence or threat of extraordinary events, including natural disasters; terrorist attacks and health-related epidemics such as the COVID-19 pandemic; risks related to operating outside of the United States; political, economic, and regulatory factors concerning our products; the impact of substantial indebtedness on our operational and financial flexibility; the impact of fluctuations in foreign exchange rates; resolution of environmental liabilities or legal proceedings; limitation of our insurance coverage; our inability to realize expected benefits from investment in our infrastructure or from recent or future acquisitions, or our inability to successfully integrate recent or future acquisitions into our business; the underperformance of our pension assets resulting in additional cash contributions to our pension plans; and other factors detailed from time to time in the reports that NewMarket files with the Securities and Exchange Commission, including the risk factors in Item 1A. "Risk Factors" of our 2020 Annual Report on Form 10-K, which is available to shareholders upon request.
You should keep in mind that any forward-looking statement made by NewMarket in the foregoing discussion speaks only as of the date on which such forward-looking statement is made. New risks and uncertainties arise from time to time, and it is impossible for us to predict these events or how they may affect the Company. We have no duty to, and do not intend to, update or revise the forward-looking statements in this discussion after the date hereof, except as may be required by law. In light of these risks and uncertainties, you should keep in mind that the events described in any forward-looking statement made in this discussion, or elsewhere, might not occur.