New Specification for Mexican Lubricant Quality
---
New Specification for Mexican Lubricant Quality
The evolution of the automotive industry over the past three decades has been remarkable. Thirty years ago, technology was focused on improving the design of engines and chassis, and later focused on global production and distribution. Today, the emphasis is on reducing harmful emissions of CO, CO2 and NOX , otherwise known as Greenhouse Gases (GHG). Original Equipment Manufacturers (OEMs) are always looking for ways to create more efficient engines, and lubricants play a crucial part in meeting new emissions benchmarks. Additive companies like Afton Chemical must invest heavily in R&D to develop the lubricant technology needed by manufacturers across the world.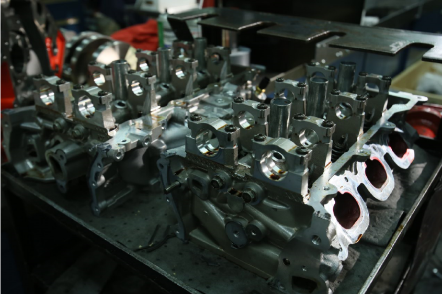 Figure 1: Lubricants are an essential component of engines

Take Mexico, for example. For the past 10 years, Mexico has been leapfrogging other countries in auto sales. According to Ward's Auto, the 2016 automotive census for Mexico was 39 million, of which 72% were passenger (gasoline) vehicles and 28% were commercial (diesel) vehicles. The average age of light vehicles is 11+ years and commercial trucks is more than 16 years. Like many other parts of the world, older lubricant specs and obsolete lubricant specs coexist with active specs. In the absence of regulation, the market share of obsolete lubricants (currently around 20%) could continue to increase to the detriment of consumers and the industry at large.

Afton Chemical has been working with the Mexican government, automotive associations and other additive and lubricant companies to establish a new standard of quality for lubricants. The goal is to protect both the interest of the consumer and the market by setting a regulation for minimum quality level.

The benefits of this new standard are multifold. Number one, lubricant blenders and importers will need to comply with the minimum standards established by automotive OEMs worldwide. Number two, the environment will be better protected by ensuring less volatility, fewer emissions and greater resistance to degradation and oxidation through higher-quality raw materials such as additives and base stocks. Number three, these higher-quality lubricants will protect engines and components from wear and deposits—improving longevity.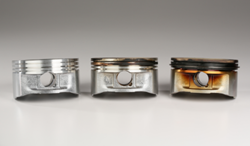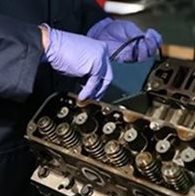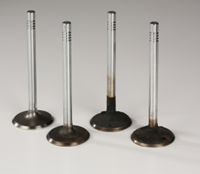 Figures 2-4: Additives play a key role in preserving pistons and valve cleanliness

After four years of close collaboration with Afton Chemical, the Mexican government has proposed the new NOM 116 specification. This spec seeks to establish methods for testing lubricants, based on the American Standards for Testing and Materials (ASTM), for specified minimum quality in diesel and gasoline. In addition, it aims to verify that the commercial information on labels is adequate, true and visible and will protect the consumer and the environment.
New Proposed Qualities (Diesel)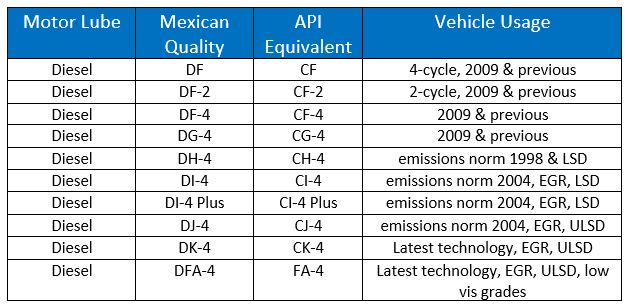 New Proposed Qualities (Gasoline)



Manufacturers blending API-approved lubricants will be spared additional paperwork. Those who do not have API-approved lubricants will be subject to random sampling at the warehouse or blending facility, or during the product importing process to check for eight physical and chemical properties in order to certify the minimum quality of the lubricant. Those properties are as follows: low temp apparent viscosity, low temp pump viscosity, kinematic viscosity @ 100°C, viscosity index, Noack evaporation loss, foaming characteristics, base number and phosphorus content.

NOM 116 establishes control guidelines for analysis, laboratories, approved organisms and certification of the review process. A grace period of one year will be permitted to continue blending obsolete API qualities CF, CF-2, CF-4 and CG-4, after which new nomenclature will take effect: DF, DF-2, DF-4 and DG-4. After three years, all obsolete specs will be eliminated, and API CH-4 will become the minimum quality level for diesel. Gasoline classification establishes GJ-4 (API SJ) as the minimum quality level from the beginning.

The rollout of the new NOM 116 spec will begin with a public consultation period in which industry representatives will be able to share observations and comments.

Next, all comments will be evaluated to see if they have merit. And finally, NOM 116 will be published in the Federation's Official Diary (DOF), making it mandatory nationwide.

Stay Up To Date
Submit the form to the left to receive more information on Afton's unique formulating capabilities and solutions.